The assessment form
For all assessable course elements an assessment form is available. The corresponding setting options vary between course elements.
In general here you can:
create short feedback
define passed/failed
score
set the visibility of the feedback for the learners
make comments for other coaches
distribute assessment documents
close the assessment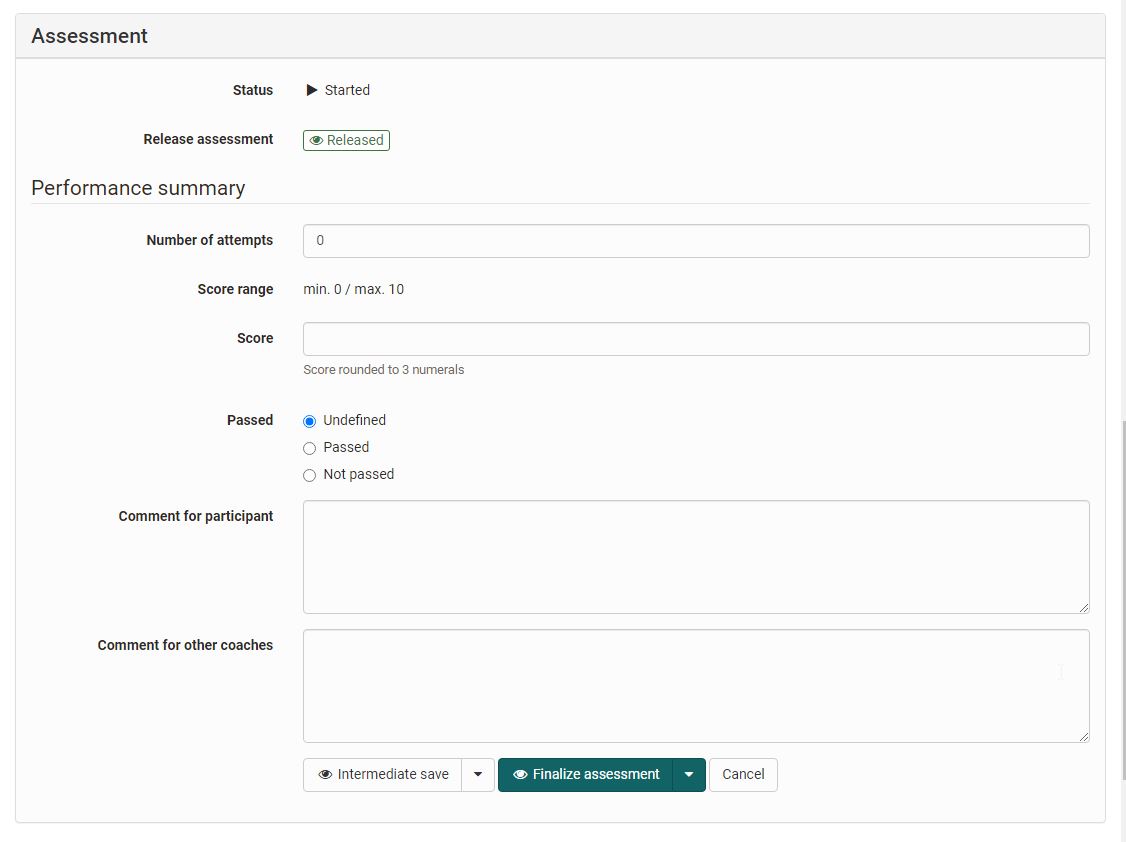 For the course elements Task and Group tasks, the submission process is displayed in addition to the assessment form. Here, assessments can be made in the individual assessment steps.
If files are submitted via the assessed course element, the number of attempts by the learners can also be adjusted manually.
In the case of the course element "Assessment", if activated accordingly, a rubric for assessment is also available.
Visibility of the result
Once results are added in the assessment tool, whether as points or pass/fail, they are visible to the user. In some cases, however, the results should be made available to all users at the same time. For such scenarios, the visibility of the result can be restricted and set to visible only at the desired time.
By default, all results of the assessable modules are displayed immediately. The only exception is the test, if the correction was set to manual.
To set the visibility for a single user, open the desired user.
Unten im Bewertungsformular kann sowohl für die Zwischenspeicherung als auch für die finale Freigabe (Bewertung abschliessen) definiert werden ob die Bewertung dem User direkt angezeigt werden soll oder nicht.

Alternativ bzw. wenn die Sichtbarkeit für mehrere User angepasst werden soll kann dies auch über die Teilnehmerliste für den entsprechenden Kursbaustein erfolgen.
This column shows the users for whom the result is visible (

) or not yet visible (

). If no icon is displayed, the default setting applies.
Um die Sichtbarkeit zu ändern, können die gewünschten Benutzer in der Spalte ganz links ausgewählt und entweder der Button "Release" oder "Withdraw release" angeklickt werden.
The status completed has no effect on the visibility.
Finalization of the assessment
The button "Finalize assessment" changes the status in the Status column. All selected users that have been set to completed will receive the status "Assessed".

Changes are then only possible if "Reopen assessment" is selected. This status helps you to keep track of the users that have already been assessed. This status has no effect on the visibility of the results for the user.
---
Last update: 2022-12-08